When introduced back in 1983, LoFric was the world's first hydrophilic urinary catheter for intermittent catheterization. At the time, it was a revolution, as it replaced the need for less effective catheters and gel, and made catheterization safer, easier and more comfortable.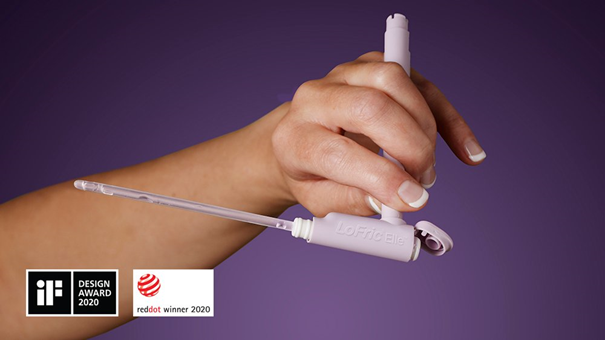 Now we are introducing a new revolution within intermittent catheterization – although this time directed towards women. The new LoFric Elle is the world's first intermittent catheter with an L-shaped handle. With this handle, we have taken the differences in bodily shape between men and women into account and address the challenges particularly faced by women who catheterize.
Meetings with over 100 experienced health care professionals and users have gone into the product development process of this new innovation at Wellspect. Their highly valuable and appreciated input has helped us fulfill our development goal of making a real difference to users – this time with LoFric Elle.
At Wellspect, we never compromise with the health of our users. We know that to our female users, discretion and esthetically appealing design are key, but we also focus on smart user-centric design and functionality. In fact, we have been awarded two design awards for LoFric Elle: The "iF Design award 2020, discipline of product, category of medicine/health" and also the RedDot award, within the category "product healthcare".
LoFric Elle is the next generation of LoFric intermittent female catheters with our patented Urotonic™ Surface Technology, offering all the benefits that come with the renown LoFric quality. It makes intermittent catheterization easy to teach and easy to learn, while enabling more women to perform self-catheterization with confidence, freedom and control.

Simply put, it's a LoFric for women with an L-shaped handle for increased independence.
Say hello to LoFric Elle!