Samhall is a government-funded organization that trains and matches people with disabilities to the right job. This is a sustainable business concept, and one that has seen Samhall named the most sustainable company in Europe. Samhall is working with companies that share their values on diversity in the labor market. For more than 20 years, Wellspect has enjoyed a collaboration with Samhall, with nearly 200 Samhall employees working at Wellspect's production site in Mölndal, Sweden.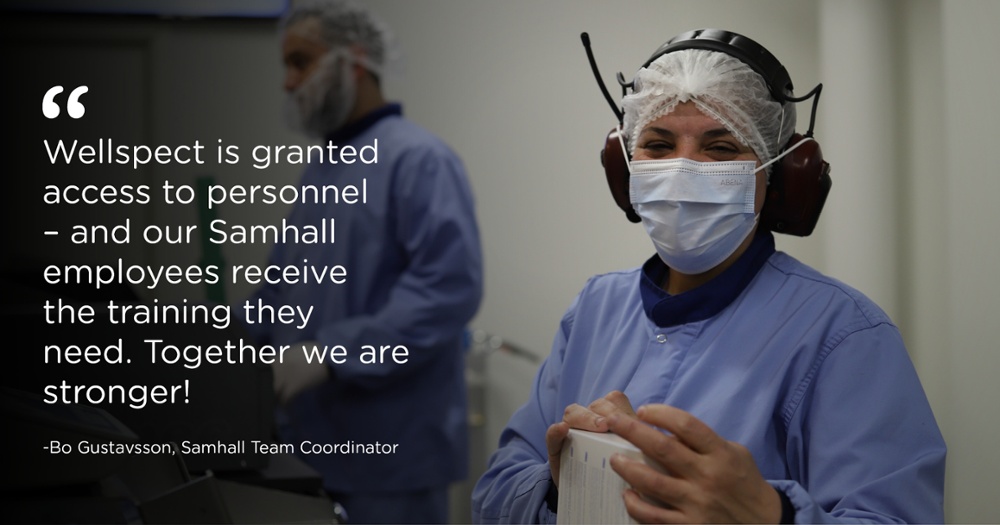 Wellspect's production site in Mölndal has relies upon a highly automated production requiring skilled machine operators. But among these processes, repetitive manual labor is required. This is a challenge since it requires personnel with different skills. By defining these sub processes and contracting them to Samhall at an agreed service level, Wellspect's team of operators can focus on the automated production lines to maximize output and minimize waste. It is a win-win situation.
Wellspect is granted access to personnel for less advanced tasks – and our Samhall employees receive the training they need. Together we are stronger!
Bo Gustavsson, Samhall Team Coordinator
Magret Storch, Shift Manager at Wellspect manufacturing in Mölndal, describes the arrangement for Samhall employees at Wellspect:
Within our manual processes, the tasks require careful and meticulous work by hand. To support work training, two Samhall employees share one position, working one hour, followed by one hour for rest
The pandemic poses challenges with the restrictions that have to be enforced in the workplace.
"The cooperation works very well", says Margret, but the Covid-19 pandemic does present a new way of working. During this period, we have isolated all teams in Wellspect production as much as possible and found new solutions to ensure we provide a sustain-able environment.
An integrated workplace
Swedish society is culturally diverse; and the workplace is no different. Sometimes there can be friction; for example, there may be a history of conflict between ethnic groups from specific regions of the world. Men from different backgrounds may not be used to women being leaders. These issues are solved through dialogue and a clear policy aligned with Wellspect's core values, with an ambition to maintain and foster an integrated and welcoming working culture for all employees.

In the Mölndal workplace, Swedish is used, even between colleagues who share another native language; this is for safety reasons, and for the training and inclusion of all colleagues.

Wellspect's mission is to make a real difference, now and for the future. With our continued collaboration with Samhall, we can make a real difference in society.