We are happy to announce that a new episode of the ISCoS Podcast "SCI Care: What Really Matters" goes live today, with Wellspect guest host Maria Bergsten. This episode focuses on the different techniques and needs of catheterization, with a particular focus on women, which is pertinent with the release date of this episode being on International Women's Day.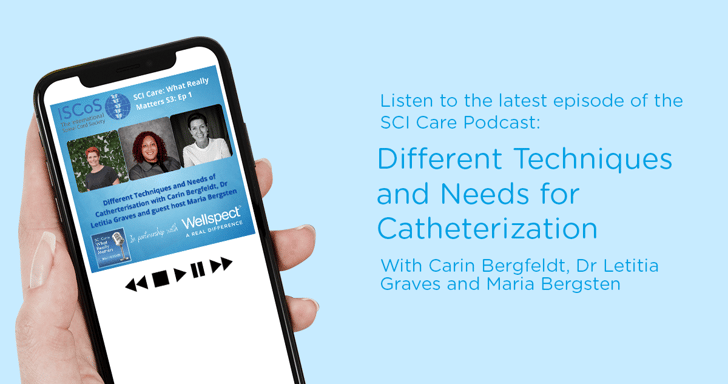 Guest host, Maria Bergsten, Territory Manager at Wellspect, Sweden is joined by Carin Bergfeldt, a Licensed Occupational Therapist and course leader at Aleris Rehab Station in Stockholm, Sweden, and Dr Letitia Graves, Assistant Professor at the University of Texas Medical Branch at Galveston, USA. Carin has over 20 years of experience in the care, rehabilitation and treatment of patients with spinal cord injuries and other neurological injuries/diseases, sharing her knowledge and expertise in spinal cord injuries, transfer technics, pressure ulcers and technical aids with patients, caregivers and clinicians.
Before transitioning into academia and research, Dr. Letitia Graves worked as a nurse on a spinal cord injury unit for several years. She serves on the Nursing Special Interest Group of ISCoS, part of whose mission is to increase awareness of specialized spinal cord injury, nursing care and to increase education and resources for individuals living with spinal cord injury, their family and caregivers, as well as other clinicians globally.
'When people see this chair, I want them to see me and not my disability' – integrity is a huge part of this for my patients.

- Dr Letitia Graves on her patient's viewpoint.
The discussion of this episode focuses on the importance of independence and integrity for patients and how to promote and increase this. Maria, Carin and Dr. Letitia share their tips and tricks for successful self-catheterization from a female perspective and speak about the vital role the therapist or clinician plays in increasing their patients' confidence to help them go further in their rehabilitation. Another key part of their role is in working with patients to find and create the right tools and instruments to make their lives easier. Carin explains that this can involve a huge amount of invention, creativity and collaboration with patients, and that this is one of her favourite parts of her job. For both Carin and Letitia the ultimate goal is to give their patients as much independence as possible, depending on their level of injury and circumstances
My driving force is to get my patients as independent as possible.

- Carin Bergfeld.
Listen to the episode by pressing the button below!