We are pleased to be back together with ISCoS for a new episode of their webinar series "SCI Care - What Really Matters". This time with a focus on bladder management and how to succeed with intermittent catheterization.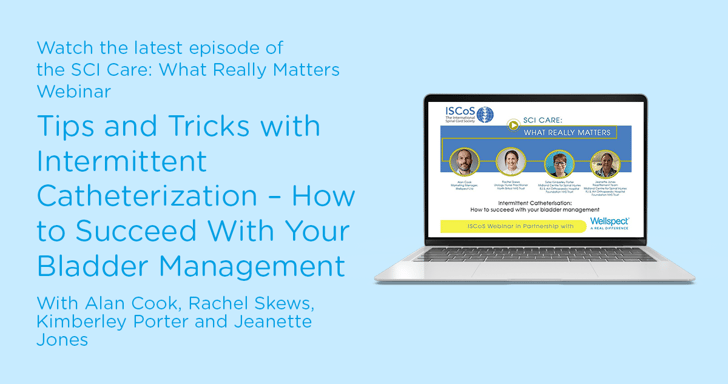 This episode is hosted by Alan Cook, Marketing Manager for Wellspect UK. Alan has worked in the continence industry for thirteen years, primarily focusing on intermittent catheterization and transanal irrigation. Alan is uniquely positioned to share his professional knowledge and personal experience in bladder management with ISC, having sustained a T8 spinal cord injury in 2005.
To help him discuss this topic in-depth, Alan is joined by three experts, Rachel Skews, a urology nurse practitioner from North Bristol NHS Trust, and colleagues Kimberley Porter and Jeanette Jones from the Midland Centre for Spinal Injuries.
"Part of my role for an outpatient is making sure that when we're following them up, we're asking the right questions. There are so many different things, but making sure that we are consistent on what we're asking and having the knowledge and keeping ourselves up to date so that we know what's available to help our patients." – Rachel Skews
The webinar covers three main learning objectives: key factors to consider when starting intermittent catheterisation, addressing potential barriers to success and maximising compliance after discharge. The panel explore this topic by asking questions such as, is there a right time to approach a patient to start ISC? How do patient pathways impact this? How can compliance be ensured post-discharge? What factors should be considered, and what is the importance of peer support?
"Just to see there is some light at the end of the tunnel to show them the way and that they've coped and they've moved on. I think peer support is invaluable." – Kimberley Porter.
In summary, there are many factors to consider when providing a successful bladder management programme. Information, education, and peer support are all key to making this success happen.
You can watch the full webinar here: