Mischa Hielkema is a Wellspect ambassador for Benelux. As a two

–

time Dutch handcycle champion, he reaps the mental and physical benefits of training and wants to share his passion, joy and motivation for getting involved in sport.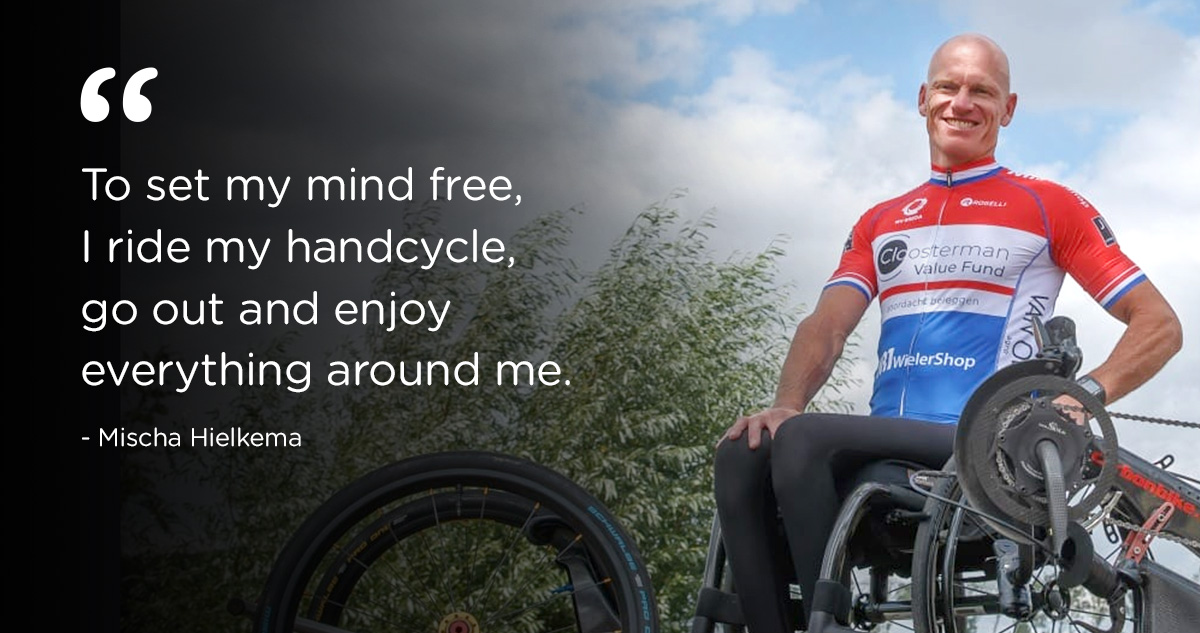 An enduring love of sport
Sport has always played an important role in my life. I started playing football at a young age, but my passion was motocross. From the age of seven till twenty, I was dedicated to it. In January 1996 I had a fall during a race, resulting in a spinal cord injury. Since then, I've used a wheelchair, but my love of sport has never left me.

After intensive rehabilitation, I immediately got back to being active again that same year, starting with wheelchair racing. I dedicated myself to this sport and won the Dutch Championship half marathon a few years later.

Handcycling came into the picture in 2007. It can be compared to cycling but using the arms. It quickly became the sport I am passionate about to this day!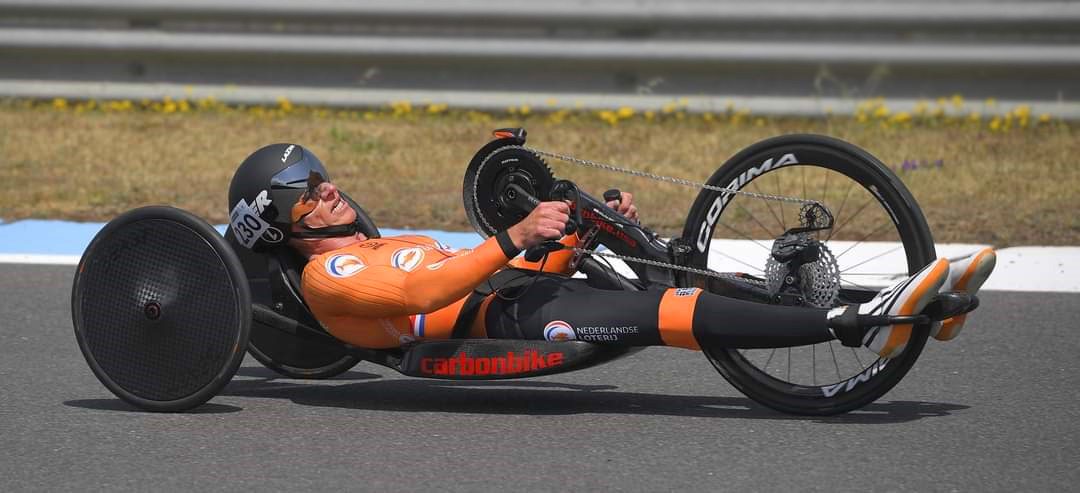 Mischa in competition
Dealing with disappointment – phenomenal starts and crushing lows
My goal is to belong to the absolute elite of hand cycling. I have already won a number of major international races, including the Berlin marathon 2015 and the World Cup race in Ostend 2016. In 2011, I was the world record holder in the handcycle marathon for a while.


If I wasn't as fit as I am, I would not have recovered so quickly.
Looking back, the 2021 season was one that came with ups and downs. I won the first paracycling edition of the Round of Flanders. It was the first race of the season which immediately made me World Ranking leader – a phenomenal start. This was followed by the World Cup race in Belgium in which I performed steadily, making it to the top ten twice! My main goal was to qualify for the Tokyo Olympics, so the upcoming World Championships in Portugal was where I needed to peak.

Unfortunately, in the last couple of years I've experienced some health issues, which led to hospitalization. I was often told – if I wasn't as fit as I am, I would not have recovered so quickly – just one of the benefits of maintaining fitness. In the end, we all want to stay fit and healthy.

But it took a toll on my performance; I was somewhere in the middle of the pack. I just wasn't good enough and didn't peak at the right moment.

I fell into a really black hole, my mental health suffered, and I lost my motivation to go handcycling because of the enormous disappointment I felt.
Setting Goals

Having something to aim for is what helped me out of my period of depression. I'm in love with the speed and the adrenaline of racing – this gives me the most satisfaction. But to perform at elite level requires long periods of training. And if I want to compete at this level and enjoy the thrill of competition, I have to be smart about my training, and that involves maintaining my motivation. To do that, I set goals and challenges.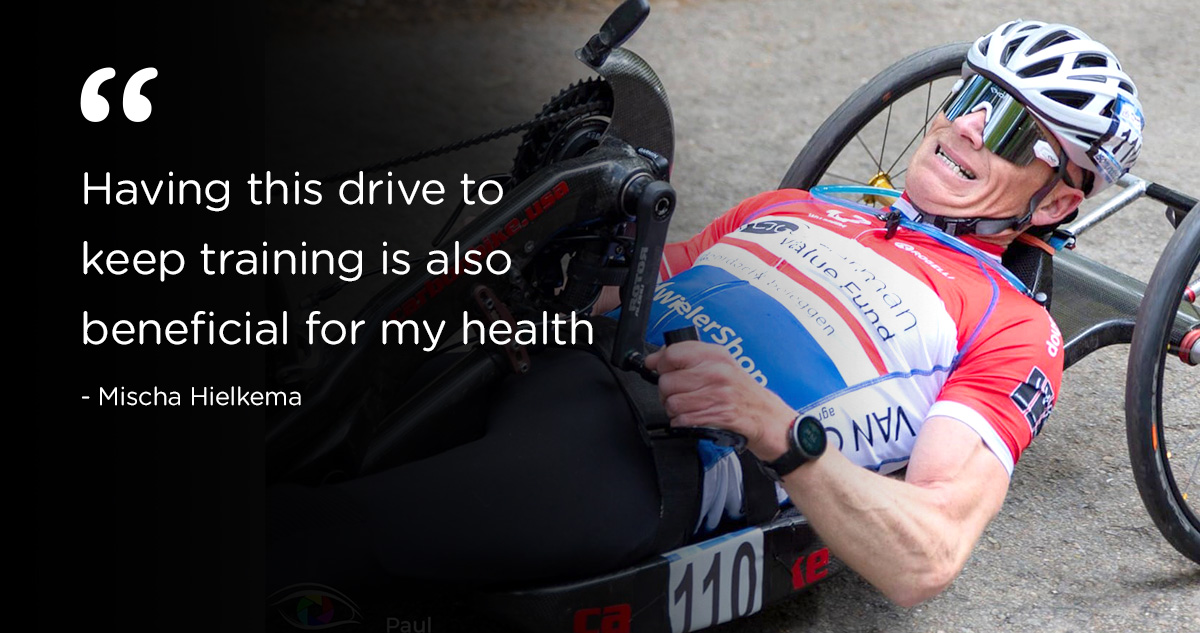 The importance of finding that balance between work, life and health
Our well-being has received renewed focus in these challenging times, and it's no different for me, I have to fit in my training around my job. Although I find much fulfillment in my professional role, it too can have periods of stress.

It's a daily challenge to find balance in my work in terms of energy cost, and energy reward.
To set my mind free, I ride my handcycle, go out and enjoy everything around me.
In the end, Parasports is not just about winning, it's also about sharing the passion with others, says Mischa.
---

Considering getting into a disability sport?
Either as a participant or in a supporting role?
As the profile of disability sport continues to rise since the Tokyo Paralympics, Wellspect gathers three inspirational women from the front lines of contemporary and competitive Parasports, to share their unique sights, for the benefit of aspiring Paralympians and anyone wanting to get involved and enjoy the benefits of sport.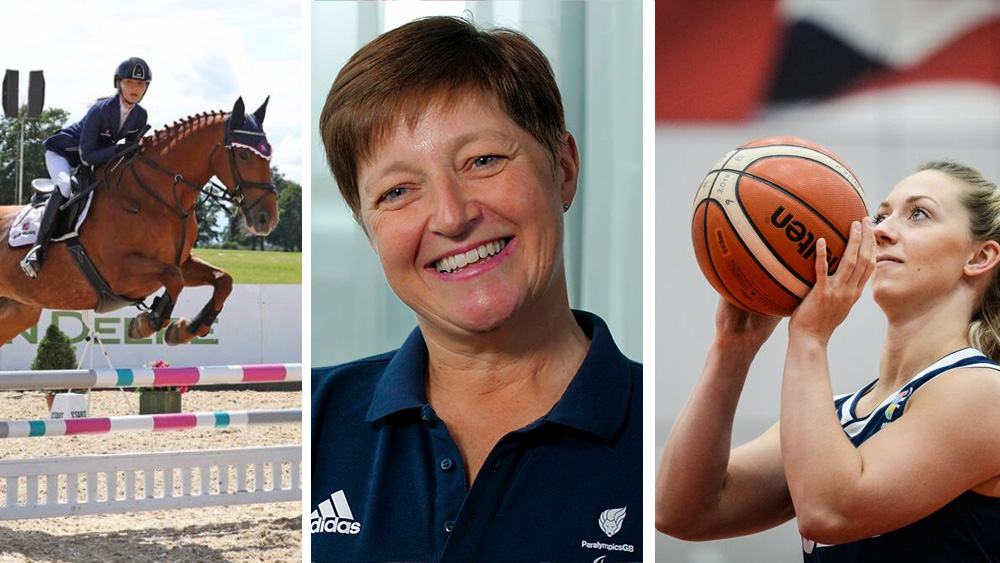 ---