Lisa is Wellspect U.S.'s Clinical Access Manager and has been a part of the Wellspect family since 2014. With her education and experience in urology and belief in Wellspect's vision and products, Lisa was inspired to approach Wellspect with a view to establish a clinical team for the U.S.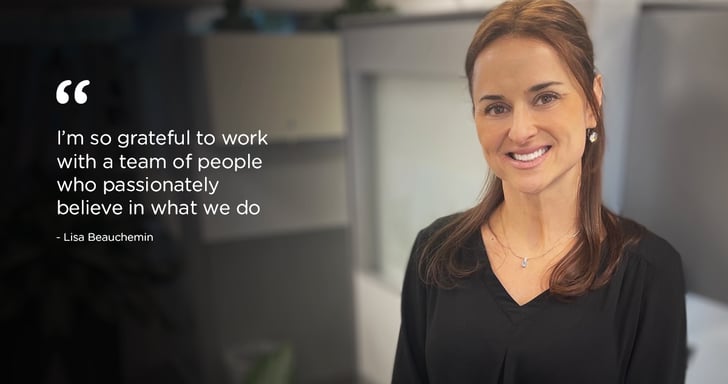 A passion for healthcare and helping people
Lisa Beauchemin became a nurse because of her passion for healthcare and a vocation for helping people. After earning her Registered Nursing degree (RN), Lisa worked in adult outpatient urology for 7 years, and became a Certified Urologic Registered Nurse (CURN).
As a Certified Urologic Registered Nurse, Lisa had the opportunity to teach many people about the causes of urinary retention, the risks associated with urinary retention, the benefits of intermittent catheterization and steps to intermittent catheterization (IC).
Many IC patients need additional support.
A dedicated urologic nurse and patient advocate, Lisa researched and selected 3 hydrophilic catheters to introduce and educate her patients about. Out of those catheters, most of her patients chose LoFric® catheters. Patients chose LoFric because of the clinical data, comfortability, ease of use and discreetness offered by these catheters.
The need for additional support
Lisa realized that although most patients transitioned to IC seamlessly, many required additional clinical or product support. Patients don't always absorb all information relayed at a visit to the doctor's. Therefore, it's important to have a clinical support team in place to provide additional education and support to ensure patient compliance and success with IC therapy for optimal health outcomes.
Better support ensures better patient adherence – and confidence in the therapy.
Says Lisa: Would you use a catheter that was uncomfortable, the wrong length, that caused urinary tract infections – a life threatening illness, or didn't drain the bladder completely? Looking for the best care for her patients, Lisa has sought to change the lack of support and knowledge available for users – which brings us back to why she approached Wellspect in 2014.
The first Wellspect Clinical Team
Lisa was confident that having a Wellspect Clinical Team would differentiate Wellspect from competitors, increase end-user compliance, enhance patient outcomes and be a value-added service for prescribers and healthcare professionals. She brought the idea to Wellspect and was entrusted to start up the first U.S. Clinical Team. And she rose to expectations. Today, seven years later, she works closely with Katherine Fernandez MSN, RN, CNS – a Clinical Access Specialist and a valued member of the Clinical Access Team.
For a user, knowing that help and support are always available increases adherence to the therapy and ensures better health.
Lisa and Katherine speak to customers every day to provide clinical (IC and TAI) and product (LoFric® and Navina®) support and troubleshooting. They also travel with the sales team to educate clinicians about intermittent catheterization and bowel management with LoFric and Navina Systems and collaborate with all other cross-functional Wellspect U.S. departments.
Why I like working at Wellspect
I love working for an organization that puts our end users first. We work together as a Wellspect family to improve the quality of peoples' lives. I also appreciate our commitment to sustainability. Sustainability is not only about reducing our environmental footprint, which is very important, and we continue to implement changes to reduce our footprint like our new greener manufacturing process for LoFric, but it's also about making commitments to a safe, committed, and inspiring workplace and to increasing good health and well-being.
I'm so proud and grateful to work for a company that has the best products that make a real difference and to work with a team of people who passionately believe in what we do.