A few weeks ago, LoFric user Ina Åkerberg set off to climb Africa's fourth highest mountain, Mount Meru, with the aid of wheel chair and crutches. Ina has since completed the trek and returned. Here she shares her story of this remarkable adventure.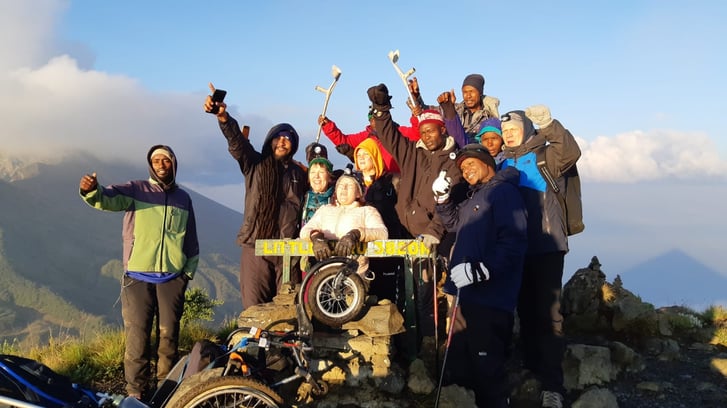 Day 1


We start the trek from 1500 meters up. The team consist of David, Lisa and I, all in wheelchairs. Sara and Liiso from Sweden are joining as well, and a further six people from Germany. Theresa, who worked for several years as a doctor in a hospital in Tansania, joins us every now and then.
The roads and paths are in good condition, although we still did stumble into muddy puddles, a narrow bridge or areas covered in rocks and pebbles. Naturally, the path has a steep angle upwards the whole time, but fortunately the gear works and I get plenty of help from two of my team members. Sweaty and tired, we reach 2500 metres! Feels like an historical achievement: somebody did this in a wheelchair! We did it!!!
Day 2

Today's challenge is to get to 3500 meters. We face steep cliffs, uneven, rocky surfaces and I instruct the team as to how they can help me in the best way possible. The terrain is demanding and soon David and Lisa, both in wheelchairs, take the decision to not carry on. We soldier on, armed with resolve, strength and laughter to encourage us; we even have our own Mount Meru song!
We make it to our goal, Saddle Hut. What a feeling to achieve this! Our gratitude is expressed in shedding tears of joy. We go a bit further to acclimatize - final number for the day: 1100 meters!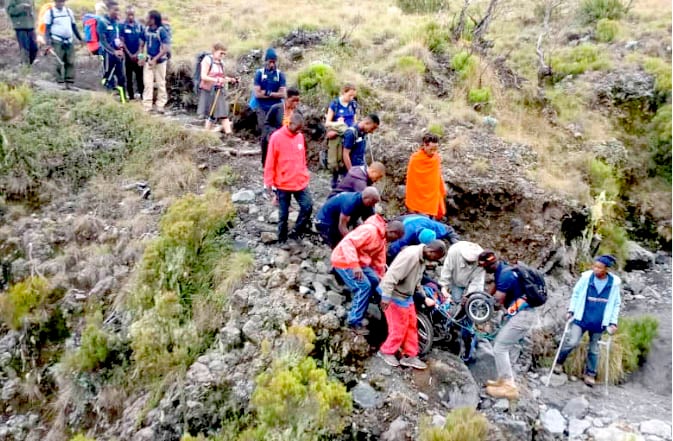 Day 3: summit day


Alarm is set for 03.30, summit in sight. Little Mount Meru... The road up to the top is a steep and meandering, ending in rocky walls - I have to start using my hands and feet to progress further. It is getting brighter, the sun is rising and we feel euphoric about our achievement as we reach the top - only to discover that there is one more portion to climb, just as high and steep.
Summoning our strength, we move on to the summit - 3820 metres! Everyone is filled with joy, sharing in the experience as we sing and celebrate, so happy about our achievement.

I am the first wheelchair-bound person in history to have climbed Mount Meru!
The purpose of this hike is to raise funds for building a "House of Hope" in Haydom, Tanzania. And with every meter climbed, the establishment of a rehabilitation center for children with spina bifida and hydrocephalus drew closer. There will be treatment and post-surgery care available for children who have gone through life-saving procedures; as well as medicine, support and essential practical training provision to support them in life.
Ina Åkerberg
Wellspect are proud sponsors of this noble project and congratulate Ina on this stunning achievement.
Did you miss the first part where we heard about Ina's preparation for the trip? Read it here