We recently shared a blog about Ina Åkerberg and her adventure in reaching the summit of Mount Meru. In this blog, we hear from Lisa Schmidt and Daniel Lebuser, wheelchair users who accompanied Ina on her summit. This time Daniel writes about their incredible journey from a different perspective.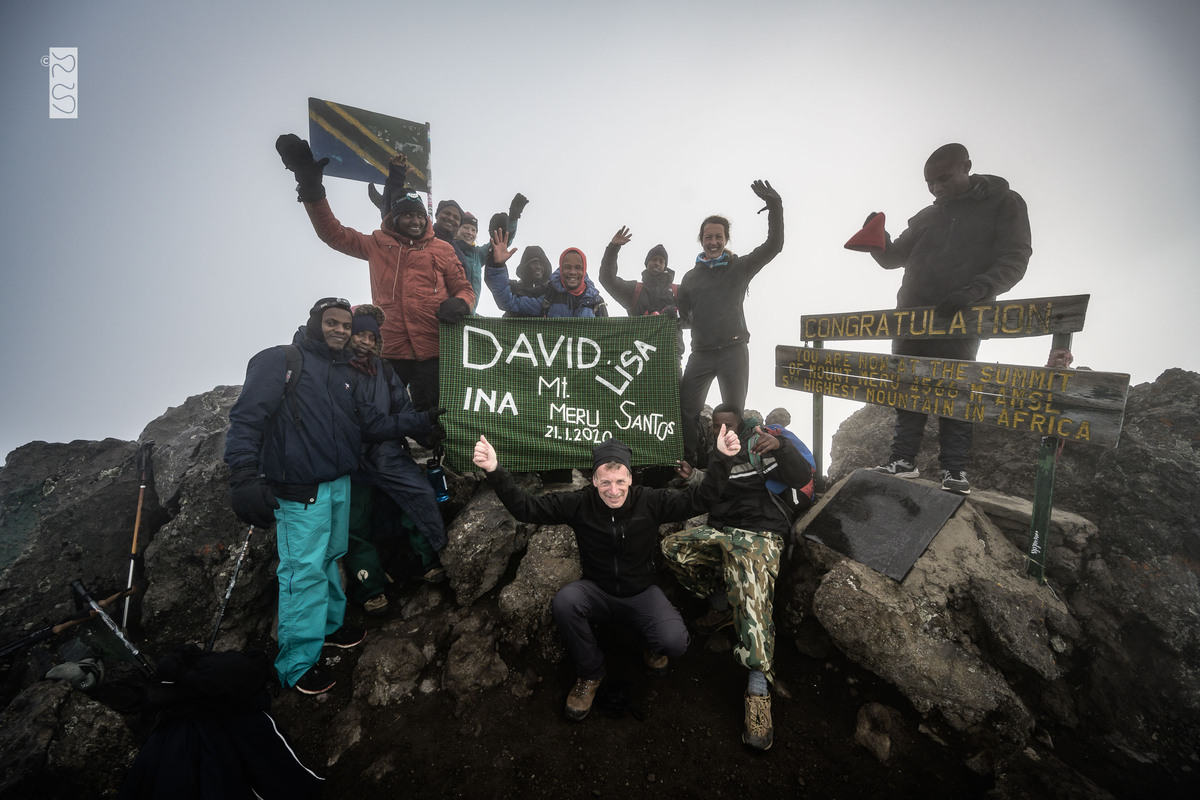 Photos: David Lebuser, Lars Wehrmann
Lisa and I spend a lot of time in our country showing people all the things you can still do if you're in a wheelchair. We do tricks in skate parks and hole training on how to master the wheelchair. We are committed to removing prejudices. We visit many countries in Europe, with the same goals and methods for education, entertainment and reducing prejudice. For our latest trip, we wanted to venture further, so we went to Tanzania in Africa.
House of Hope
Hamburg based pediatrician Dr. Theresa Harbauer founded the association Haydom Friends, and contacted us about the situation for children with spina bifida in Tanzania. Harbauer worked in the Lutheran Clinic in Haydom for several years and helped to shape the aftercare program for children with spina bifida. After 10 years, the number of families in the program had grown sharply and the clinic needed to expand to accommodate everyone.
House of Hope was designed to make room for the many families who would otherwise have to travel hundreds of kilometers to receive aftercare. The aftercare program and the clinic are separated so that children with spina bifida do not occupy the rooms that children who are sick and require emergency care. Spina bifida is not a disease, and most of the children who come to House of Hope are otherwise healthy and only require routine examinations while participating in the aftercare program.
To finance the House of Hope, a crowdfunding project was launched, and a charity hike was organized for Mount Meru, the second highest mountain in Tanzania after the famous Kilimanjaro. No wheelchair user had ever climbed Mount Meru, even though wheelchair users had already climbed the higher Kilimanjaro. We would soon find out why...
Arusha
Our first contact with Africa would be Arusha. A lively city where people are always on the move in the streets and the outdoor markets. As wheelchair users, we noticed immediately that the city lacked accessibility. There were hardly any sidewalks and many side streets were unpaved and muddy. The existing sidewalks were not clear or barrier-free and varied in heights and surfaces. Sometimes you would even find an unfinished wall or staircase in front of you, blocking the path. The solution? We had to use the street, but that too had its pitfalls because of the unceasing traffic in Arusha that obeys only one rule: whoever drives first, is right! In the beginning it felt as if we were constant danger - every time we crossed the street, turned a corner or even when riding a taxi - it all felt dangerous. But after a while, we got used to the pulse of the city and learned how to get from A to B safely.
The shops in Arusha could often only be reached crossing temporary bridges over open rainwater drainage canals that ran along the streets. This was often a hazardous balancing act for us. With all the barriers we faced in Arusha, we have learned to appreciate one thing: the pragmatism with which barriers are reduced here. If there only was one board to balance across a canal, a second one was quickly organized and aligned to the wheelchair's track width. Ramps were often steep, but a steep ramp is still better than none. If the restaurant was not barrier-free, the tables were taken outside. If the desired drink or meal was not available in a shop, the waiter ordered it from the shop next door or three streets away. In the hotel, doors were quickly removed to make the bathrooms accessible and upholstered stools were used as shower stools. Not everything was optimal, but instead of big problems, simple and quick solutions were sought - Hakuna Matata!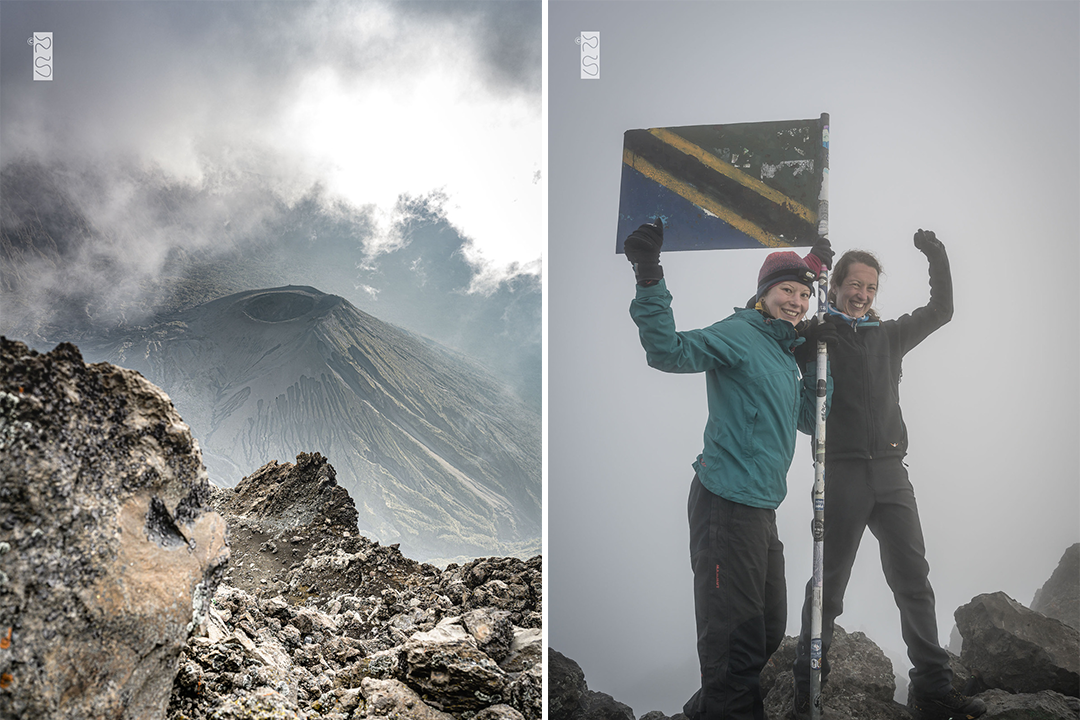 Photos: David Lebuser, Lars Wehrmann
Mount Meru
Soon it was time to head to the mountain. We were greeted early in the morning with a view of Meru and clear skies. Our team included Germans, Swedes and Tanzanians, and we set off for the Arusha National Park to begin the charity hike. Lisa, Ina and I were the first wheelchair users to ever attempt to climb Mount Meru.
In contrast to his big brother, Kilimanjaro, Meru has very few well-developed paths. Instead, the journey to the 4566-meter summit would be stony, steep and muddy.
A TV crew were waiting for us at the gate to cover this record attempt, a great way to document and demonstrate that wheelchair users can participate in all aspects of life and push their limits as well. For the first 3 kilometers I made progress unaided, but then it became very steep, very quickly. This was the first stage (and supposedly the simplest) and I had to be pushed and pulled by three people at a time. The first stage stretched a total of 14 km up to the first hut. We were comforted by the waterfall and fig tree that had grown into an archway where we rested. Behind schedule, we now had to do our best to reach the hut before dark. The road dragged tremendously, and our mood was pretty low. The rain from the last few days ruined the paths, so we had to hike through the mud or around it, often close to the slope or through the thicket.
The higher we climbed, the more stones filled the path. Some stones were so big that you had to be lifted over them. Shortly before the hut there was another plateau, which meant no more steep climbs - instead there were ditches filled with rainwater. Slowly the sun disappeared behind the mountain and the darkness quickly fell over us. We just wanted to get there!
When we finally arrived at the hut, at 2500 meters, there was hot tea and a large dinner had been prepared for us. The first day had sapped morale, but we went to bed hoping that the next would be better.
Day 2
The hut had no accessible washrooms or toilets, so the morning routine took a little longer than planned. With a more motivation than the night before, we made our way to the beginning of stage two. As we ascended, the paths became narrower and steeper. After just a few hundred meters and only 60 meters of altitude, it became clear to Lisa and me that this wasn't going to work. We were already being carried, pushed and pulled, sometimes by five porters at a time and we still had another 7km to go. At this rate, we would never reach the next camp in daylight.
I am not someone who likes to be carried. I prefer to climb by myself. This was not an option here, as I certainly would not made it in daylight, if at all, without help. Lisa and I reluctantly made the decision to go back down and return to the first hut instead. The Swedish wheelchair user, Ina Åkerberg and the Tanzanian spina bifida hiker Santos Joshua Chuwa, decided to keep going.
Since I don't like to give up, this decision was not easy one for me, but in the end, it was the right one. Our goal of spreading our message had already been reached at 2500 meters, because no wheelchair user had even made it this far and another was still on her way to the summit. In Tanzania, where children with wheelchairs are often excluded from attending school, it was instructive to send the message that sometimes, you just have to try – even without being able to evaluate the chance of success beforehand.
Lisa and I spent two relaxing days in the hut without contact with the rest of the group. We didn't know how far the others had progressed, but since Ina hadn't returned, we knew that she had definitely made it to the next hut. While waiting, we talked to some people who were already on the way down. Several of the "normal" hikers couldn't even make it to the summit, partly because of storms and rain, but also because of altitude sickness or simply because it was too hard. Many also thought that reaching the summit by wheelchair would be impossible, as sometimes the path only consisted of just a chain to hold onto while on the steep slope.
We waited and when the team finally came back, they brought great news! Ina was the first wheelchair user on Mount Meru and Santos was probably the first to reach Mount Meru by foot with Spina Bifida. Part of the group also made their way to the 4500-meter summit of Mount Meru and took our names and our message to the top of the mountain. The summit remains unscaled by more wheelchair users, but maybe after our first push, one day there will be an adventurous wheelchair user who will reach it again.
It was a great attempt to break the record, and with the right message, but a there is a lot to improve before Mount Meru can become a popular travel destination for wheelchair users. Until then you can still go on walking safaris at the foot of the mountain and discover buffalos, giraffes, monkeys and other great animals.