Monday, September 20th marks the start of Urology Week 2021. As part of our annual partnership with The International Spinal Cord Society (ISCoS), we were invited to host the latest episode of their podcast "SCI Care: What really matters" for a urology focused episode with host Rachel Chapple, Global Product Manager and Clinical Education Manager for Wellspect, and guests Carina Andersson, Nurse and Urotherapist, and ISCoS President Prof Ruth Marshall.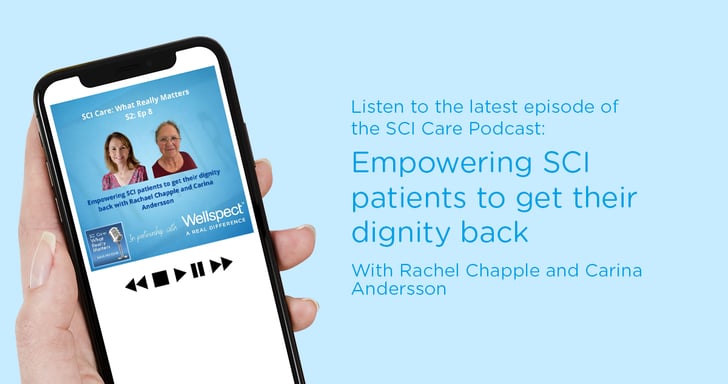 Urology Week is a global initiative from the European Association of Urology and takes place in September each year with the aim to raise awareness of urological conditions and treatments. It is said that 16% of Europeans over age 40 experience some form of symptoms related to urinary incontinence (EAU), that equates to 25 million people. With Urology Week, the goal is to start relevant discussions, introduce new technologies and insights and share experiences, which is just what Rachel Chapple, Carina Andersson and Prof Marshall do in this podcast episode, focusing on bladder management when you have a spinal cord injury.
The podcast episode discusses the changes in SCI care that both Prof Marshall and Carina Andersson have witnessed during their 40 years of experience within the field. They talk about the fear that comes with not knowing where or when one might have an accident and the impact this can have on a person's quality of life. A lot of people with bladder problems may worry about going out in case there are leaks, but with the help of self-catheterization, you can limit the risk of leakage and accidents by having control over when you empty your bladder, similar to regular urinating. They also discuss what it's like having to adjust to a life with a condition that requires you to self-catheterize, the importance of keeping and ensuring a patients integrity and dignity, and how to be intimate after a spinal cord injury.
Since I began to work with SCI patients the surgery has improved and the length of hospital stays has reduced. Previously, the patient was immobilized for 3 months to heal the fracture, and the most intensive training was on hold, now the training can begin much earlier. Of course that's depending on the level of injury and the need of care in the Intensive Care unit.

- Carina Andersson.
Carina Andersson is a Nurse and Urotherapist, working in a spinal cord injury department since 1986. The care unit at the University Hospital in the north of Sweden has 8 beds for SCI and traumatic injured patients. She has participated in several of the International (ISCoS) and Nordic (NOSCOS) meetings as well as having an active part in the Nordic Spinal Cord Injury Registration (NSCIR) where all the SCI patients are registered. This register contains data from the acute phase, the follow up period as well as data on quality of life, bladder and bowel management, ASIA-scores, hand function, sexuality etc with the purpose of aiding research of different aspects. Her work is concentrated on the patient's bladder, bowel and skin problems. Since being both a Nurse and Urotherapist she also follows both MS patients as well as adults with Spina Bifida.
Rachael Chapple works for Wellspect and has a dual role as a Global Urology Product Manager & Clinical Education Manager and lives in the UK. Rachael originally qualified and worked as a Nurse, before joining the company over 25 years ago and has since had various sales & marketing roles and responsibilities within Wellspect. Combining product knowledge with clinical education helps to ensure Wellspect are continually striving to understand and meet the needs of our customers.