Following on from the first part of our disability sport roundtable discussion, our panellists discuss the path to representing their county, the memories and emotions of that first event and their tips for any budding Paralympians. If you haven't read the first part of the discussion, find it here.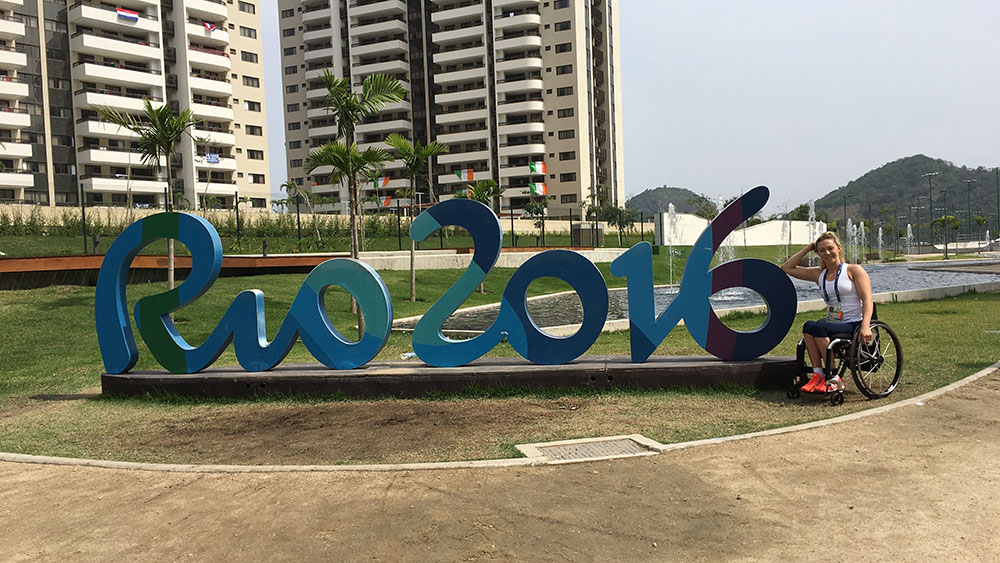 The Panellists
Sophie Carrigill

Wheelchair Basketball Player

Bev Collins

Wellspect UK's Clinical Lead Nurse & ParalympicsGB Nurse

Evie Toombes

Pararider
What should someone consider if they want to compete in international para sports?
Evie Toombes: I think one of the big things that I learned was to begin focusing on your strengths and working from there because your strengths are what your future is about. You're going to have an easier ride if you do something more towards your strengths than you are trying to work on your weaknesses all the time. And although they overlap, and you've got to improve your weaknesses, figure out what you enjoy and what you're good at and then be willing to work on it. I find a lot of people that I speak to maybe ignore something that they're not so good at and say I don't want to or I can't deal with it.
It's easier if you work more on your strengths than on your weaknesses all the time.
So, it's about balance, looking at what you're already good at, honing in on that and then being willing to address what you're not good at. Being willing to take the mental battle of "Okay, this is something that I really need to improve on." That's the gap between being okay at something and being phenomenal. When you're willing to say to yourself, I need to put the work in, and being willing to do that can really make that step forward for you.
I think when you're really enjoying something and loving it anyway, if you're giving your time and your effort into it, you're a lot more likely to succeed – and kind of go above and beyond if that's already the foundations of it.
Sophie Carrigill: If you're starting out, you've got to own where you're at. So, if you're not quite where you want to be, you've got to own that and think, right, I've got to put in the work to go for it.
Ultimately everything for me comes back to enjoyment. If you're not enjoying something, you're not going to put the work in, and you're not going to get there. So, I think we see athletes probably pushing themselves, overtraining, that kind of thing. If you're not enjoying that, then you're in a losing spiral. So, my number one thing would always be to keep checking in with yourself to see if you're still enjoying it.
If you're not quite where you want to be, you've got to own that and think, right, I've got to put in the work to go for it.
It's hard, you know, it's hard work, but you've got to have that sort of element of fun. For me, it's my full-time job; for a lot of athletes, it is. If you would reflect on doing a job outside of being an athlete, and if you weren't enjoying it, you would probably try to do something about it. So yeah, for me, it's just keeping everything as fun and as engaging and enjoying it as much as possible, really.
Evie: Also, look for opportunities. Perhaps when your confidence is a bit lower, you're not as open to new opportunities and new possibilities. Whereas if you're able to listen to people's experiences, listen to what other people have done to move forward and be open to new opportunities, that's really where you can grow. The more we stay apart from people, the further we shrink, whereas there's always something to learn from someone who's come so far. And being open to opportunities and open to growth, even if it's not comfortable at the start, can really help.
If you're open to opportunity, there's always something to learn from someone who's come so far.
There are things that you must move around and change, and you have to develop, you can't stay the same person and still kind of continue achieving. You've got to develop as you go forwards. And I think that part of it changes you as a person. You've got to be willing to grow both emotionally and, of course, as an athlete.
Bev Collins: Enjoying the sport is so important; also, not being restricted to the first sport you try. There are so many different types of activities and clubs. As Evie said: Look for opportunities! Open days and mixed sport 'try it' days are so helpful when looking for a sport to suit you.
Speaker Profile: Bev Collins

Bev Collins is the clinical lead Nurse for Wellspect UK, making a real difference every day for people living with bladder or bowel dysfunction.




She has been closely involved with disability sport since 2007, when she began supporting GB Wheelchair Rugby athletes. Since then, she has been involved in three Paralympic Games for Tokyo 2020 as the lead nurse for the ParalympicsGB preparation camp.

Twitter: @EvertonBev
How did it feel to be called up to represent your country?
Sophie: I'd made a lot of choices and sacrifices to put myself in a position where I could be selected for my first games or my first tournament. And it was almost like it was a relief that it had paid off. I was doing my last year of my A-Levels, and I didn't quite get the grades that I wanted, because I'd given everything to my career as an athlete. So, for me, it was like: Right, I've chosen this path. Is it going to pay off? And luckily for me, I got selected, and it did.
It was a relief that my choices and my sacrifices had paid off.
So, there was almost a bit of relief in there, as well as like: "Oh my god, this is the most amazing thing! I've just been selected for my first tournament", you know, and I was very proud and very happy. It was something I decided to commit to. So, all the emotions were really brilliant.
Evie: I was 14 when I first got selected to go abroad with Team GB, and that was really exciting. At the time, competing in able-bodied and para as I still do now, but I went for the para-team because that was really where I saw my future going and wanted to start as I meant to go on. So, I was 14 in the para senior team, and I think the second youngest person. There was 40, because, in show jumping, we have a very wide range of ages, because you've got the rider and the horse.
It was just such an incredible experience. I think I placed third on the first day, which was incredible to get a podium finish, something I just thought was miraculous, really. Then on the last day, I actually jumped the wrong fence in the jump-off, and the video went viral and ended up getting 6 million views.
So, although I didn't win that class, I ended up being very well known for it. Although my debut maybe wasn't quite as successful as we'd hoped, the video actually opened up a lot more opportunities for me. So, you know, every cloud has a silver lining, doesn't it? And I'm sure there'll be another opportunity to go back there and do what I was meant to do.
What advice would you give to an up-and-coming disabled athlete?
Sophie: If you're starting out in a disability sport, there's plenty of barriers that, if you look for them, you'll find them. If you attach yourself to them, you'll stop yourself doing things because you'll think: "oh, I don't want people judging me or looking at me". These are hang-ups that everyone has, never mind if you've got a disability or not. My top tips would be to just remember that the barriers you face are the ones that you put on yourself. You're in control of that; you can go out and decide to not face those barriers. You can find places that are more accessible; you can find sports or activities that you enjoy that make you feel safe and comfortable.
Access is really important, and opportunity is really important. More can be done in our environment to help that, you know, to push disabled sport out there. So that people are more aware of it.
If you're just starting out, do your research, go and try loads of different things because you might like the first thing you do, but that doesn't mean that that's the only sport out there. So, keep trying different things, and if you want to succeed, just give it your everything. If you want to go to that next level, put yourself out there and be brave. It takes a lot of bravery to commit to something fully, and the risk of failure is always possible. So just try, be brave, and give it your all.
Keep trying different things, and if you want to succeed, just give it your everything.
Evie: I think perhaps one of the biggest things is that the only person who says "no" that actually matters, is you. So, if you tell yourself no, then, of course, you're not going to be able to do it. Of course, it's not going to be possible. Choosing to say yes or no is completely up to you. And that alone carries it through from starting off to pushing that bit harder, trying that little bit more, being willing to go outside of your comfort zone. The comfort zone is a really big thing that comes up in sport for any athlete. You might want to stay where everything's nice and fluffy, and you feel like you can do it, but that's not where growth happens. That's not where you can really achieve things.
Growth doesn't happen in your comfort zone.
I know a lot of people that have a lot more quality of life simply through having sports or hobbies. Whether you use sport as a way just to burn off a bit of steam when you've had a bit of a bad day or whether you want to pursue it as a career, as Sophie does, and really push your limits that way, there are so many ways that you can go in sport, and there's no right or wrong way for anyone. The benefits of it and how it makes you feel, how it gives your life so much balance and obviously helps your overall health in general – it's worth anyone giving a go.
Bev: For me, the most important thing is not being afraid of having a go because you will always be supported. I went on a trip with a young athlete who had never been on a trip since his accident. He had never been on an aeroplane or travelled alone. He was not alone! Watching him grow in confidence during the trip was amazing. There is no 'can't'; we just find another way to achieve!
Summary: What does it take to compete in international parasport?
There's lots of inspirational advice to take away from this section of our roundtable discussion, here are some of the key information:
Discover what you are best at and focus on these strengths - that's where your future lies!

Don't lose an element of fun, even when competing. If you're not enjoying yourself it's harder to put the work in.

Be open to opportunity and learning from your peers

While the biggest barriers you will face are the ones you put on yourself - you are also in control of how you face these barriers

Sometimes you'll be pushed beyond your comfort zone, but that's where growth happens!
In the final section of the roundtable, the panellists explore the topic of access and opportunity for disabled people. Subscribe to the blog today to make sure you don't miss it: