This is part two of the captivating story of Paralympics winner and decorated MBE, Member of the British Empire, Anne Wafula Strike, who had a rough start in life, but never gave up. As Wellspect's guest blogger, she continues to share the fantastic story of her life and career. Enjoy the article and the video!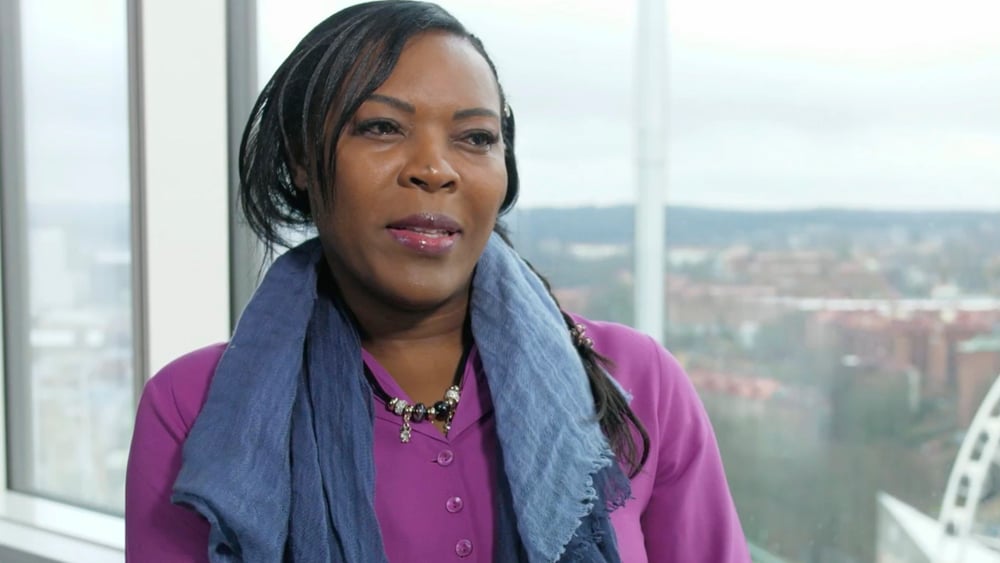 Is disability a matter of perception or is it a social problem? Well, people have different theories depending on disability. From my experience, it's the broader economic, social and political aspects of disability that prevent me from living a 'full' life. This exclusion caused me to learn to pay attention in life, to notice changes and opportunity, and to use them well.
If you would have said I'd find a platform in sport, my friends would have laughed.
If you would have told me or any of my close friends and associates when I was growing up in Africa that I'd find a platform in sport, they would have laughed. This is because sport is one thing that was not accessible to disabled people. I remember I was the girl who sat on the sideline and held my friends books and jumpers and watched with envy while they took part in sporting activities. So when I moved to the UK, and after the birth of my son, I gained some weight, as is common with most mothers after bearing a child. I went from a size 8 to almost a size 14. I had to do something about what I saw as my weight problem. I decided to go to the gym to get fit and tried to reduce to at least a size 12.
That is when one athletics coach approached me with compliments on my strong upper body and suggested I'd consider taking up wheelchair racing. I did not really understand his reasoning – but I recall, a few days later, I was flicking through the tv channels when I came across a striking image of women competing in wheelchair racing – this was in the 2002 Commonwealth Games. The speed and the sheer determination on their faces impressed me and captured my attention. I then knew and understood what the coach was talking about. I took up wheelchair racing, enjoyed and embraced it and in the summer of 2004, I was on the start line in the Athens Paralympic Games competing in the 400M, 800M and 1500M races. I was breaking new ground as a pioneer from Sub-Saharan Africa, competing in Wheelchair racing at a Paralympic level.

Whoever said, 'when one door closes, another one opens' was right. I started to feel like... all those doors that closed on me when I was growing up, I was now charging at full speed through each one of them.
In just a few years, I had gone from a tourist with the intention of visiting the United Kingdom and recording a single with the late Ian Drury (a fellow Polio survivor), to becoming a wife, a mother and now a Paralympian in Athens – flying the flag of a community that ostracized me because of my disability! Was all this true or was I dreaming? After the Games, I realized that the Paralympic movement had given me a new platform that would enable and empower me.
We have an obligation to the abilities we have. Disability does not mean inability.
It's not the disability that should define me; no. It is how I deal with the challenges the disability presents me with. I say this because societal barriers and stigma generally causes those with a disability to be excluded and deprived of opportunities. We, disabled people, have an obligation to the abilities we have, not the disability. What we think, we actualize and become. Without effort, all good intentions are somewhat worthless.
We may feel small or insignificant because of a disability – but we are not. We connect to the genius web of life where even the slightest thought and action causes a ripple that links us to the greater humanity – because disability does not mean inability. This was evident when I went back to Kenya from the Games in Athens and parents and disabled people came to speak to me – and the common question was: What do I need to do to become like you? What's the secret? How can my disabled child approach life like you do?
Disabled persons have so much to offer. All they need is opportunity free of stigma.
How was I going to say to them that they will have to be their own jury and judge on how they approach life? How do you use such words to young men and women who, when coming to see me, crawled on their hands and knees because of lack of mobility aids and accessible infrastructure? What about those who felt hopeless because of their lack of access to normal community life and education because of incontinence and bowel problems – as it's considered a taboo to speak about this subject in public? Deep down, I thought; getting an education to a degree level, and going to Athens and making history, I was lighting my own path in life – but the same light is available to so many others who identify with me; to those living with disability. Opportunities had helped me, and in return – by challenging misconceptions about disability – I wanted to help the world to understand that disabled persons have so much to offer. All they need is opportunity free of stigma.
The days and hours spent with the disabled people and their families, saw me support many charities. I decided that I would use my name to empower them so with the help of friends I founded the Olympia-Wafula Foundation. And then one day, in 2014, I woke up to a letter that was asking if I would accept an MBE award in the Queens Honors list. My first reaction was that it was some kind of joke – but it wasn't, it was real! I responded that I would be delighted and honored to accept the award.
What we believe and do can change the world.
Member of the British Empire. The award was for my services to charity work and disability sport. The big day arrived, and as I was chauffeur-driven through the gates of Buckingham Palace, with my family by my side, I couldn't help but feel so privileged and blessed. One thing I am so sure of, is I have learned to stay away and to say no to my past conditioning, and to all preconceptions of how society states we should respond, just because we have a disability. What we believe and do can change the world. With our different disabilities we can shake the world gently and cause its equilibrium to shift. We all need dreams, and in my dreams I dance.
Read part 1: "I didn't apply for disability..."


This is part 2 of a story written by Anne Wafula Strike. Anne is a Paralympics Champion, Commonwealth Secretary-General's Champion and special envoy for Equality in Sports. She was decorated by the Queen of England as MBE 2014. She is a popular keynote speaker and has made many television appearances as a campaigner for Disability Rights and Inclusion. Her film 'Lack of Disabled toilets Unacceptable' was broadcasted by the BBC in 2017. Her book "In my dreams I dance" has sold many copies.