It's an early December day and I have just boarded an aircraft between Stockholm and Frankfurt. It's a two hour flight. Short and smooth. No risk of needing to use the toilet during the flight.
It turns out the flight is delayed since we do not leave the gate at the planned time. 15 minutes later the captain announces that due to snowstorms in Europe we have been scheduled for a slot much later. At the moment we may not be able to leave Stockholm for another 3.5 hours.
That's when I realize I have forgotten to bring my urinary bag onboard. I feel the panic growing inside of me as I know that during these short flights there is no aisle chair that can transport me to the toilet...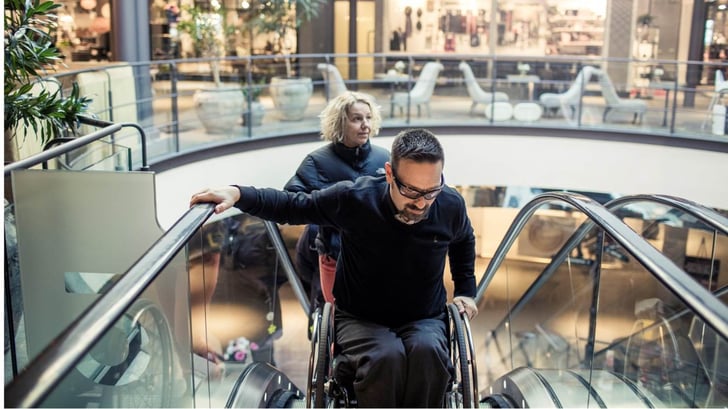 I had been a good boy and gone to the toilet just before boarding. I always have that as a routine. Normally I also drink less before and during the flight if I know I may not be able to use the toilet. I have also learned that for flights that have a scheduled flight time longer than five hours there is an aisle chair onboard to help me get from my seat to the toilet. But this was not a long flight. At least not a scheduled long flight.
45 minutes later the captain suddenly announces that we have got a new slot and that we are about to get ready to depart. Oh what a joy. To me and my bladder.
My options emptying the bladder
On longer flights I ask the cabin crew to help me get to the toilet. They are not allowed to help you transfer from the seat to the aisle chair, so if you can´t transfer on your own you need an assistant to help you go to the toilet.
I had excluded my other alternative. If you have a urinary bag, you can do your business right where you sit. If I'm alone I just put a blanket over myself and catheterize (CIC) under the blanket.
If I travel with someone, I normally ask that person to hold the blanket as a screen. This is a situation where it's so much easier for men than for women.
For people that may have problems with transferring or emptying the bladder in their chair, an indwelling catheter is another option. I have several male friends that leak urine if their bladder becomes too full, and they often use an uridom and attach a urinary bag to it during the flight.
Others use medicine. There are some medicines that temporarily stop the kidneys from producing urine. Just make sure not to drink as usual if you use that type of medicine. There are several solutions that may help you, all depending on your function and ability.
High pressure
Towards the end of the flight, about the same time as we started descending, I felt the bladder was almost full and it sent me distinct messages of the immediate need to lower the pressure.
I have a Th12 incomplete injury and as with many with a low spinal injury, my bladder does not leak. The pressure just rises until I can use a catheter to empty the bladder. With the increased pressure I also feel an increased pain in my lower region, thats when I know for sure I need a bathroom.
I could not wait to get off the plane, but that would turn out to be yet another experience.
Due to the heavy snow we were actually the last aircraft to land that day at Frankfurt. For some time no aircraft had been able to depart, so the whole airport was full of planes. We were unable to get to a gate and had to park just next to the runway. Then it took another 30 minutes before we could start to disembark.
Eventually I was the only passenger left in the aircraft, waiting for the special transport for disabled. At this time my eyes started to get yellow. At least it felt like the urine was all the way up there. The crew was kind and talked to me and offered me something to drink! Yeah, sure!! Just after I have visited a toilet maybe.
It took another 30 minutes before the special transport arrived. They carried me off the aircraft and once inside that vehicle the next problem occurred. It was so slippery on the tarmac and too much snow so we were stuck! We could not leave the side of the aircraft. We had to wait for someone to come and tow us away.
I have never been to heaven. But the closest I have ever been must have been that toilet just inside the doors at the Frankfurt airport! Peeing is a bliss!
For more tips about travelling with catheters, visit wellspect.com/travels