The stomach rules the world, as they say. Everyone with an upset stomach can attest to that. Finally, Erik found a method to get his stomach to work every day without side effects, while avoiding an upset stomach.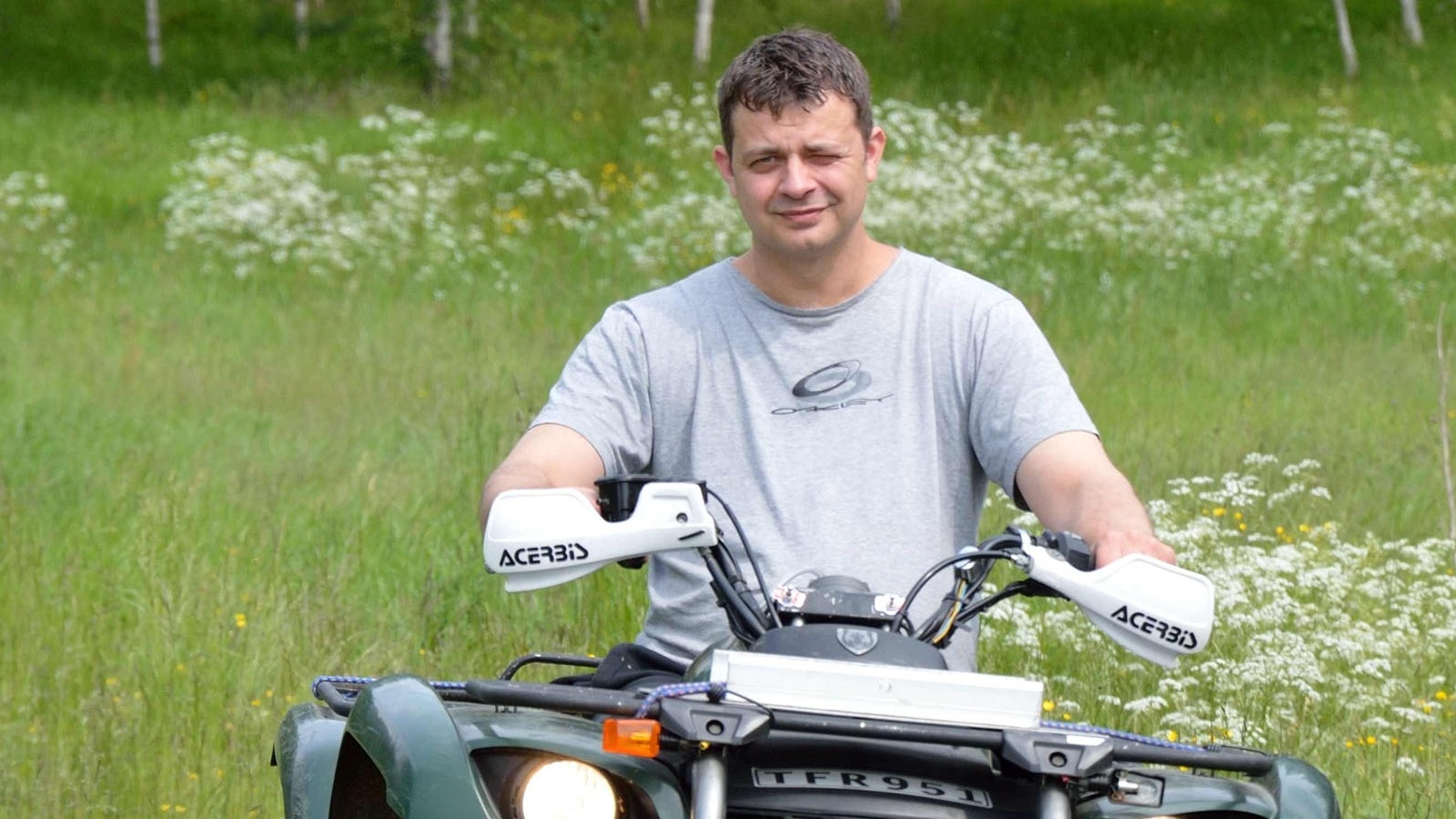 Erik is 45 years old and had sustained a spinal cord injury almost 19 years ago. In recent years, Erik developed increasing problems with constipation and searched high and low for a solution.
– The time spent on the toilet grew longer, and I still did not feel as though I had completely finished, says Erik.
Finally, Erik had bouts of nausea and fever. The exact cause could not be identified, despite several examinations.
– The x-ray showed the intestine was not completely empty, despite the fact I had recently taken a trip to the bathroom.
Erik first heard about water enemas with a pump in a private group on Facebook. Perhaps this was worth trying? Erik contacted his doctor at Linköping University Hospital in Sweden, and later on had an opportunity to test a new product. This has really changed life for Erik.
Injured during training
Erik injured himself when he was 26 years old while training for an Enduro race. Erik was taken to the hospital by ambulance, where injuries to vertebrae TH5 and TH6 were found, causing paralysis from the waist down.
– I do not have a clear memory of what happened. I was just going up a slope in the gravel pit where we usually trained. I held my gaze a short distance in front of me, and suddenly everything went black, Erik says.
– It is typical for injuries to occur during training. You do not have the same focus as in a race, Erik explains.
At the time of the accident, Erik was working at a shipyard. It was difficult to continue as a repairman and salesman afterward. Erik's employer let him take an intensive course in accounting instead. Since then, Erik has been handling the company bookkeeping and web site as well.
Using a wheelchair, Erik sits a great deal. Despite training, nutrition and all sorts of laxatives, it is often still difficult to maintain bowel movements, and constipation has become a fact of life.
– There were remnants of the powder I used in the intestine.This made me bloated and gassy afterward, even if I had "emptied" myself on the toilet recently.
Successful therapy
Transanal irrigation (TAI) is a kind of water enama, and is nothing new. The therapy has been in use for some time, but is most frequently started after testing so-called conservative methods, such as nutrition and various laxatives. TAI flushes the bowels properly with water and empties the lower portion of the colon effectively.
The difference in the product Erik uses, is improvements to the function of the water enema itself. There is an electronic system making it possible to set both the amount and the flow of water being injected into the rectum. These settings are saved until the next time providing added assurance everything has been adapted to the individual.
Added assurance also comes from knowing the pump shuts off automatically, if the water meets too much resistance in the intestine. This means patients such as Erik with reduced sensation in this portion of the body, are free from worrying about something going wrong without being able to feel it happening.
Emptied properly
– I can relax in a complete different way than before. I don't even have to be as careful about what I eat as before. Trips to the toilet are less stressful, go much faster, and when I leave the toilet, I have emptied properly. I have become more flexible, I don't have to plan everything according to my stomach routines.
Even though Erik is not aided by personal assistants, he believes that emptying the bowels with this type of product should make their job much easier and safe.
Since the pump is preprogrammable, users do not have to be concerned about settings or anything else. Once you have set the system to suit the user, in principle there is nothing more to worry about. This is a therapy with no side effects!
– Maybe this could be used for people with recent injuries as well? At the rehabilitation clinic after an injury, the focus has to be on so many other things. Being relieved of this type of time-consuming problem should make the rehabilitation itself easier.
Major change
The intestinal procedure for Erik now takes just 45 minutes from the time he rolls into the bathroom until he rolls out again. That is approximately thirty minutes faster than before. If Erik performs his irrigation four times weekly, he gains about two hours - time he would rather devote to something else. His German shepherd, Klippa, his four-cylinder motorcycle, motor racing and fast motors remain enduring, active interests for Erik since the time he raced in Enduro. Or why not just preferably being together with significant other Isabelle. There is no doubt TAI has had a positive effect on life.
– Everyone with a spinal cord injury should try this. The therapy has brought about a major change for me. In fact, I feel like a new person!