A spinal cord injury coupled with an early childhood polio infection complicated her bladder control. Intermittent catheterization has long been part of her life.
Read Selma's story in her own words.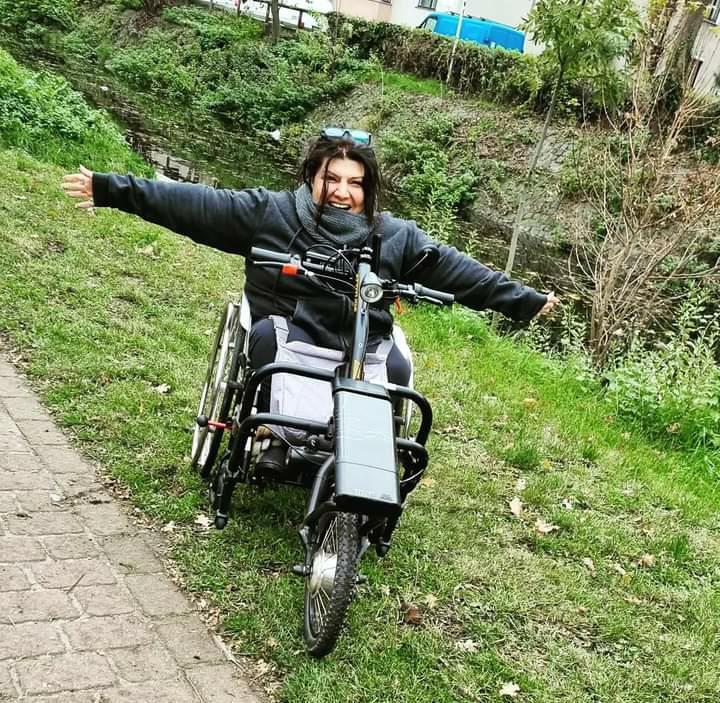 My name is Selma Sürer. I live in the cosmopolitan city of Berlin. As a young child, I contracted polio, an infectious disease caused by the poliovirus. A few weeks into contracting the virus, both of my legs were paralyzed. I don't remember the details myself, but my mother keeps recounting the story.
At the age of 13, I decided to start using a wheelchair rather than continuing to struggle with orthoses. Around that time, I also started attending one of the first integrative secondary schools in Berlin where the majority of the students were non-disabled.
As an adolescent, I never saw myself as disabled. And I hardly had any negative experiences – on the contrary. Later on in life, I learned however that prevailing societal norms and laws tend to pigeonhole people like me. Dictating what profession I "may" enlist in or the extent of the world's openness to me. To navigate all obstacles, I had to build my own path and learn how to assert myself early on. You have no other choice.
Bad fall results in spinal cord injury
I was physically fit until my mid-thirties. I exercised for several hours, six days a week. I took part in various competitions. I did community service. I also drove my own car back and forth across town. Up to that point, I didn't know about post-polio symptoms nor the late effects of polio. When I began experiencing a loss of strength and failure, I initially blamed exhaustion and fatigue until learning otherwise.
Post-polio symptoms gradually sneak up on you. This applies to incontinence too.
In 2017 and while on summer vacation, I experienced a bad fall. Back in Berlin, I was diagnosed with advanced spinal canal stenosis. My condition required an immediate neurosurgical intervention. In its aftermath, it stood clear that my spinal cord was damaged at the T10/T11 thoracic level, resulting in incomplete paraplegia.
I found it distressing not being able to control my bladder
Introduced to intermittent catheterization
Not being able to control my bladder, was however much more distressing to me than the diagnosis itself. I was suddenly soaked in my own urine all day long. While still at the hospital, a young girl instructed me on how to carry out intermittent catheterization. This was done in twenty minutes after which I was basically left to my own devices. The first few months were disastrous. I had recurrent bladder infections and had to use antibiotics.

At the time, I was not familiar with LoFric intermittent catheters from Wellspect HealthCare. My suffering led me to four different doctors, including gynecologists and urologists. They were all seemingly overwhelmed by me, a wheelchair patient with an incontinence problem. They kept referring me to other physicians and to other clinics. I eventually decided to take a break from it all for a while.
Feeling much better with the right bladder products
Some time later, I decided to face my problem again. I was lucky to meet a specialist in the field of continence care. He reignited my hope and offered a solution.

He also operated on me, inserting a bladder sling, a kind of urethral band. He reorganized my catheter regime while also recommending LoFric catheters to me. I've been feeling much better since then. Finally, after years of stress and frustration.

Find out more about the therapy of intermittent catheterization (IC) and LoFric catheters.