The year is 1983, and Stefan has just finished the Swedish military service. On a whim, he applies for fighter pilot training. A few tense weeks later, he and eleven other young men are notified that they have been accepted—he is overjoyed!
Some years later the first symtoms began to emerge and eventually he was diagnosed with MS (Multiple Sclerosis). This is the story about Stefan Granholm, still fighting battles, but of a totally other kind.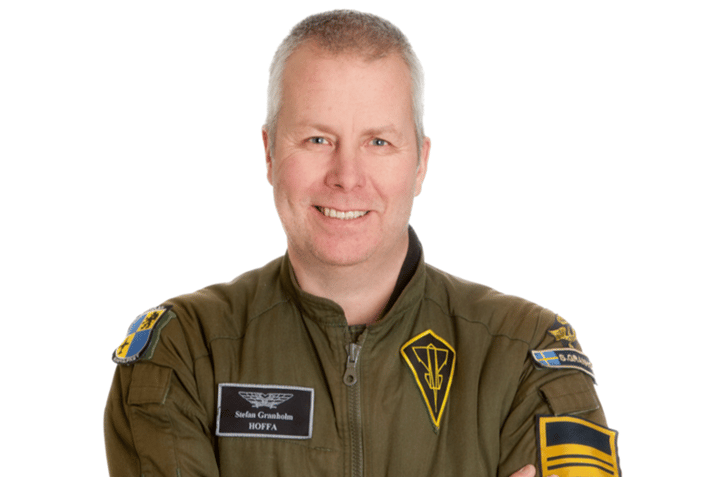 Photo: Maria Granlund
"It was like being transformed from an average Joe to Superman!" he says, now 30 years after his pilot training. "Flying the Viggen is extremely intense. There is nothing like flying at those speeds."
Back in the Cold War of the 1980s, the Soviet Union was the biggest threat from the east. Submarines had violated the Swedish borders on several occasions. The fighter pilots had no doubt about who the enemy was. So, twice per day, five days per week, the pilots practiced war games thousands of meters up in the air in a machine, which not only had tremendous acceleration power, but also the most advanced technology at that time.
A lot has changed since then. Compulsory military service was abolished in Sweden, and the Soviet Union and the Cold War are just a memory. Even the fighter jets have been replaced.
Symtoms occur
Life is much different for Stefan now, also on a more personal level. The changes crept up slowly at first: numbness in the skin, dizziness and loss of balance. The changes did not appear often, but so seldom that he did not take too much notice. One severe dizziness spell grounded him already during the training. After he was diagnosed with a probable virus affecting his sense of balance, he was reinstated to active flight duty as soon as he recovered.
In 1996, Stefan was grounded once again due to eye paresis*. The flotilla doctor began to suspect that the combination of symptoms was caused by something far more serious.
"I was unable to drive home" Stefan says. "Suddenly, I could not tell whether the cars around me were moving or not. It was very confusing."
But the symptoms relapsed this time as well, and Stefan was allowed to resume flying. But various ailments continued to appear.
"Around 1997, for example, I developed drop foot**. My colleagues at work thought that was pretty amusing—especially if it happened while we were playing floorball."
Diagnosis
Then the flotilla doctor asked Stefan, if he wanted to proceed with more extensive examinations. Stefan agreed. The next steps were examinations with a lumbar puncture and magnetic resonance imaging. In March 1998, the diagnosis was made: multiple sclerosis. Stefan was 35 years old at the time and head of a division in the air force. He lived with his wife Maria and sons Simon and Jakob. His world changed overnight.
"It is hard to describe what I felt at that moment," he says. Time and space just disappeared: Where would my life lead?"
The period that followed was a grieving process for Stefan and his entire family. The enemy that he had always been able to handle outwardly had suddenly changed appearance and shape. The enemy had taken over his body.
"Fortunately, I had a wise flight doctor in Stockholm who sent me for further examination. Afterward, I was able to fly for a little longer. The symptoms determine my capacity to work, not the diagnosis."
But more episodes occurred, and in 2003, Stefan made his last flyby. During the last years, he always flew together with trainees, who were capable of bringing the plane home, if necessary.
"Do you miss the flights?"
"I have done my share of flying, I cannot complain," he answers. "But this type of disease...is inescapable in the end."
The worst period was in 2004. After a very difficult period, he was transferred to a specialist in the north of Sweden, on an ambulance plane. A strange allergic reaction flared up with swelling of the arms and legs.
"I was home for a long period that time", Stefan recalls. "And I was incredibly bored... All I did was watch the news, morning, noon and night. Maybe a video game once in a while. I am grateful that I had a job I could look forward to!"
Adapting to the new situation
How have the people closest to you reacted to your disease?
"Very well", declares Stefan. "My family has always supported me. We built a new house 10 years ago. A single level house without doorsteps and doorframes. This helps during periods when I have to use a wheelchair. My employer has arranged my office the same way."
"Did you have to adapt your lifestyle?"
"Yes, the urinary catheter has made my everyday life much easier," he says. "You could say that my need for clean intermittent catheterization (CIC) has grown as the disease progressed. In the end, going out was a big hassle. It felt like I always had to go to the toilet, then I had to coax the urine out. Using CIC have been an enormous relief in my life."
"Some people may think it is not very cool to use a urinary catheter, but so what? I choose to view the CIC and all of the other aids I need each day as my friends. I lead a much better life with them than without them."
"I generally do not feel sorry for myself. I would not want anyone else to do that, either. Many of my acquaintances met a much worse destiny; such as car accidents and cancer with fatal outcome. I have lost work colleagues who suffered breakdowns. You only get one chance at life. Sometimes you have to be reminded of that. Life is here and now."
*Paresis: Medical term for partial or total paralysis, with partial or total incapability of voluntarily activating muscles.
**Drop foot: A foot that drags due to injury to the deep branch of the calf nerve.
---
Click the button for more information about how MS affects the bladder, and to watch other people with MS tell their story!