One of the biggest issues with transanal irrigation (TAI) is that many users quit too early – before the therapy had a chance to be effective.
We asked two experts to share their views on this topic – this is the summary of their talks.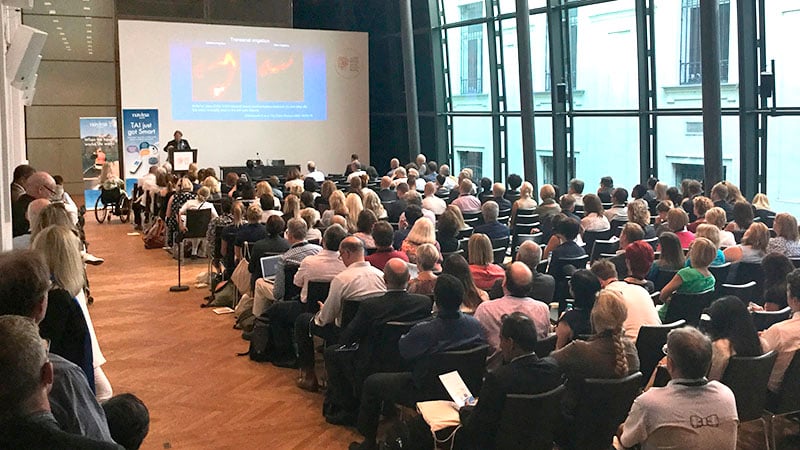 Smart support for compliance in TAI
The title for Wellspect's symposium at ISCoS in Vienna 2016 was 'Smart support for compliance in TAI'.
Once established this therapy shows great result. The hard part is to encourage the patients to stay with this method even if it doesn't show immediate results. It's not a quick fix, but a process, and both patients and healthcare professionals need to be aware of that when starting with TAI.
We invited two experts on stage to reflect on how we should overcome this resistance.
Guiseppe Preziosi
After a general description of bowel management for patients with neurogenic bowel dysfunction (NBD) and TAI, Guiseppe Preziosi continued with the associated adherence problems.
Guiseppe Preziosi's conclusions to optimize adherence were:
You should select your patients carefully, and focus on how to engage and train them.
The treatment should be tailored for each individual, in terms of frequency, water amount and balloon volume etc.
It's important to choose the right device; one that suits the patient and allows for individualization of the therapy.
To achieve the above it's of great value if the device helps monitor the progress.
Gabriele Bazzocchi
Gabriele Bazzocchi discussed the science behind TAI with focus on the peristaltic movements and pressure. He showed results from his experiments, measuring pressure in the colon during TAI and also water pressure and balloon pressure under different conditions. This study was a comparison between the brands Qufora, Peristeen and Navina.

In summary, these were Gabriele Bazzocchi's results:

Not all TAI-techniques are exactly comparable in terms of mechanism of action, safety and efficacy.


In TAI the colon needs to be air and water-tight, so in patients with no sphincter control, the catheters must be equipped with a balloon.
Among the devices equipped with manual pump the main difference in terms of safety is the presence of a valve on the water storage bag cover. This valve opens when pressure exceeds potentially hazardous values for the colon.
An electronic pump guarantees low and constant air flow which allows the balloon to reach the right size with lower pressure inside, permitting better adaptability. This is the safest way to inflate the catheter balloon in TAI in SCI patient.

An electronic device is also

precise and independent from the manual pumping characteristics and offers further chances of preventing any improper use of the irrigation system.