MS related bladder problems hindered Jane in doing the things she loved, but she found her solution and was able to take the journey of a life time!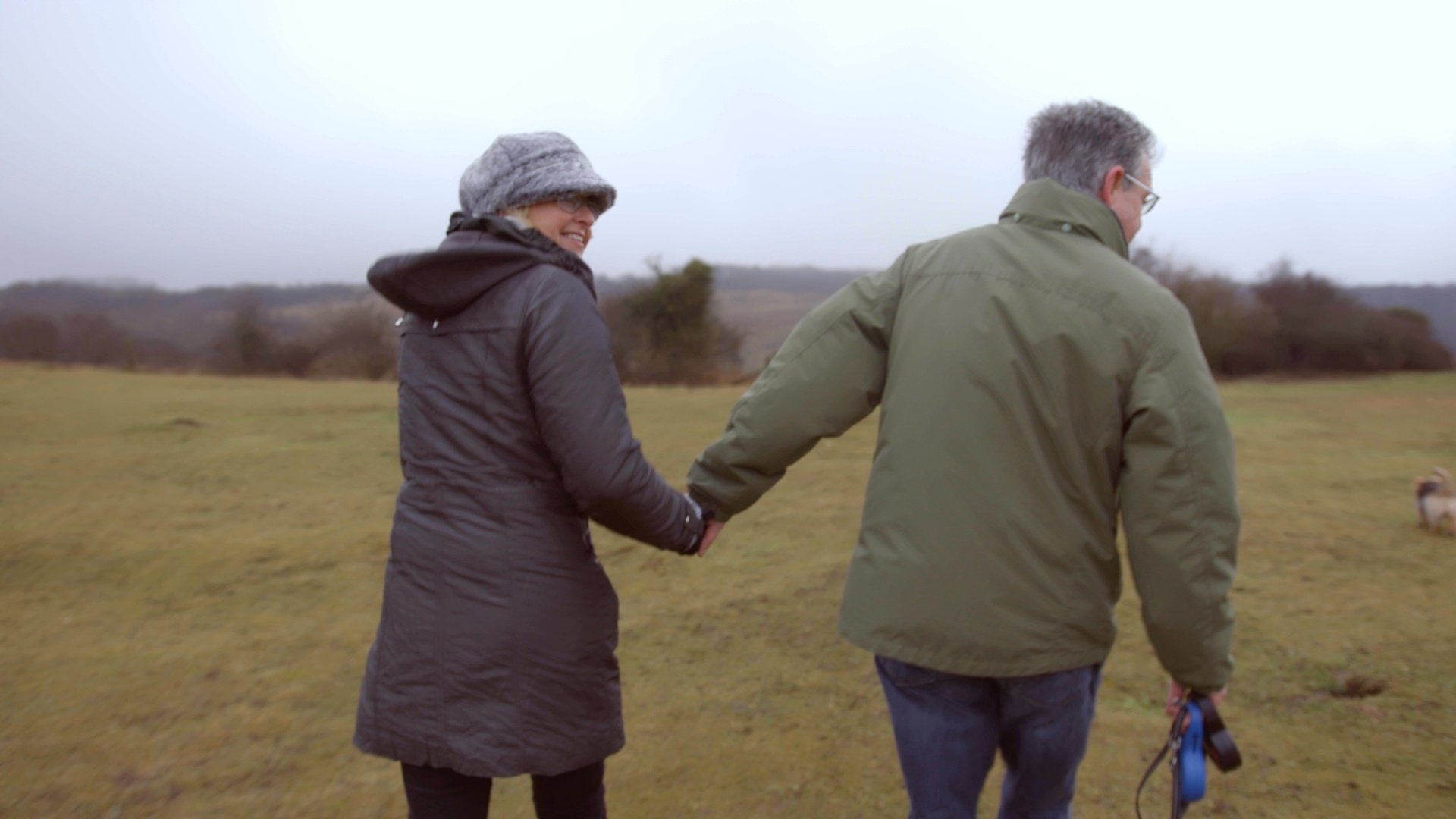 I have always been a bit if a softy for animals. My theory is that I have two hands for two dogs, but if I had more hands I would have had more dogs . . .
Jane McGowan and her husband Mick are taking us for a walk with the dogs in the hills near Gloucester in the Southwest of England. Meg and Freddy are running around, enjoying the wide open spaces and making life difficult for the film photographer who's here to follow Jane around for a couple of days.
MS and the bladder
Meeting Jane, you can't detect her Multiple Sclerosis (MS) other than a few small stumbles caused by the uneven ground, but the symptoms that hinder her the most aren't visible from the outside.
I have always dreamed about going on safari in Africa to see all the wildlife, but I have been lacking bladder control and haven't felt confident enough to go on this trip.
Jane has had MS for around 20 years, and associated bladder problems for well 10 years.
My bladder problems started with an increased urgency to go to the toilet. Not always all the time, but occasionally. Suddenly it became very urgent and it was essential to know where the nearest loo was. Every day I was planning my life around my visits to the toilet.
Searching for a bladder therapy
Jane tried several ways to manage her bladder before she found the right one for her. Once a year she has a Botox injection into her bladder, which makes the bladder relax. Due to the Botox she no longer has the normal sensation of needing to go to the bathroom but there is a certain awareness that the bladder is full. When it's time to go, she uses disposable urinary catheters to empty the bladder.
They are really discreet, you can keep them in your handbag. When you go to the toilet, you are probably there a little bit longer than normal, but when you come out nobody knows any different. It's fantastic. Knowing that I can get control back of my bladder is just life-changing.
Living the life she wants to live
Today Jane continues her work at the reception of a private hospital close to her home, even if she has scaled down to two afternoons a week due to her MS.
After Jane regained control over her bladder, she had the confidence to plan the journey of her life. For her 60th birthday her dream came true - a trip to Kenya, where she encountered a baby elephant called Ndoto. Neither Meg nor Freddy took offense when she adopted this new member of the family, who is well cared for in an orphanage in Nairobi.
For the future, as long as I have catheters, I feel confident that whatever else my MS brings, my bladder won't be a problem.
In this short film, Jane describes her symptoms, challenges and ultimately the solution to managing her bladder effectively.
Jane's symptoms can belong to a group collected under the term Lower Urinary Tract Symptoms - LUTS. Highly common in women, these symptoms are often embarrassing and painful to manage - we've compiled an eBook that covers the causes, symptoms and solutions, available to download for free.